Rhino Skin Solutions
Dry Spray 1.7 oz
Increase friction on the rock with an antiperspirant for hands and feet that doesn't damage the skin. ...
More information
Product description
Dry spray helps to decrease sweat on hands and feet. Simply spray on an let dry.
Dry spray can be used to help skin last longer while rock climbing. Keep hands and feet dry and warm in gloves and boots. Decrease sweating in nerve induced sweating incidences such as foosball, archery, riflery, gymnastics, scary movie watching, date night, driving etc...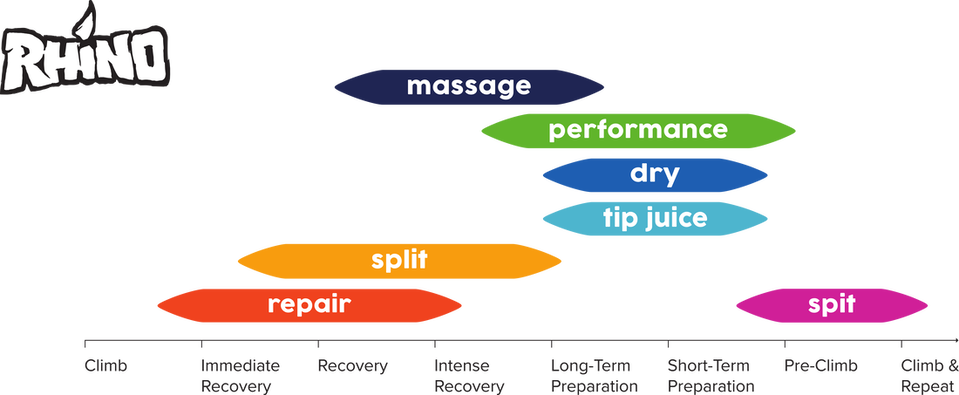 Directions: Spray onto desired area once a week. Lasts up to three days. Activation takes eight hours. Do not wash off during activation period. For increased effectiveness apply multiple times per week.
Caution: Do not get in eyes or nose. Use product as directed. If skin becomes overly dry discontinue use until symptoms resolve.
This product will reduce or eliminate sweating in applied area for up to three days.*
After 2 weeks of use, discontinue use until application area begins to sweat again,
Ingredients: Water, Isopropyl Alcohol, Methenamine, Magnesium, Menthol.
EVERYBODY'S SKIN IS UNIQUE, THESE INSTRUCTIONS ARE ONLY RECOMMENDATIONS. USE CAUTION WHEN APPLYING THE DRY SPRAY AND PERFORMANCE CREAM. PRODUCT ACTIVATES AFTER 8 HOURS. OVER APPLICATION MAY CAUSE GLASSY DRY SPLITS.
* CLAIMS NOT APPROVED BY THE FDA