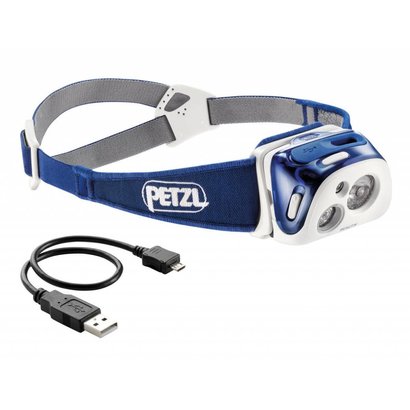 Petzl
Reactik Headlamp
Compact, rechargeable and intelligent headlamp with REACTIVE LIGHTING technology that automatically adjusts brightness to the needs of the user. ...
More information
Product description
Brand:

Petzl

Availability:

In stock
With 220 lumens of power, the REACTIK headlamp is ideal for dynamic, intense activities. With REACTIK, the user wears a compact, rechargeable headlamp that is above all intelligent, with REACTIVE LIGHTING technology. During activity, thanks to a sensor, REACTIK analyzes the ambient light and adjusts the brightness instantly to user requirements. Battery life is optimized and the manipulations are reduced to a minimum!
Details:
Longer burn time, visual comfort and minimal handling thanks to REACTIVE LIGHTING technology:
- the light sensor automatically adjusts brightness and optimizes burn time
- depending on the chosen burn time (3h30, 6 h, 12 h), brightness automatically self-regulates in three modes: MAX POWER, STANDARD and MAX AUTONOMY
Lamp can be used with CONSTANT LIGHTING technology, which ensures constant lighting over time
Mixed beam with focused component, for both close-range and distance vision
Red lighting mode preserves night vision
LOCK function to avoid accidentally turning it on during transit or storage
Rechargeable 1800 mAh Lithium-Ion battery:
- universal charging with micro USB port
- battery charge indicator
- can be replaced with standard battery pack (not included) for use in remote areas
Petzl's patented washable and adjustable headband has two-part construction for optimal positioning during dynamic activities:
- remains positioned on the head
- absorbs perspiration
Weather resistant
Certification(s): CE
For more information on Petzl headlamps, click HERE.
Specifications
Claimed Weight (with batteries):

115 g

Lumens:

220

Batteries :

1800 mAh Lithium-Ion rechargeable battery (included)

Max distance [High]:

50-65 m

Max distance [Low-Average]:

30-55 m

Max Burn Time [High]:

3h30s

Max Burn Time [Low-Average]:

6-12 hrs

Emits red light:

Yes

Beam Pattern:

Wide beam with focused component

Flash mode:

Yes