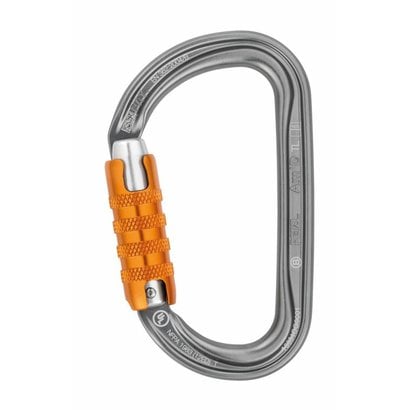 Petzl
Am'D H-frame Carabiner
Availability:

In stock (6)
The shape and size of this carabiner make it great for most uses, from connecting a belay device to your harness to using it as a connector at the end of a lanyard. The D-shape makes it one of the strongest and lightest locking carabiners Petzl makes. ...
More information
Product description
Brand:

Petzl

Availability:

In stock (6)
The Petzl Am'D lightweight asymmetric carabiner is made of aluminum. It has a D shape particularly suited for connection to diverse equipment such as descenders or positioning lanyards. Its fluid interior design and Keylock system facilitate handling.
The Am'D carabiner is available in three locking systems:
Screw-Lock: Traditional Gate with red warning indicator when not fully locked.

Ball-Lock: Unlocks quickly and easily with the press of a button and a twist.

Triact-Lock: Unlocks by raising and turning the sleeve.
Specifications:
Material(s): aluminum
Certification(s): CE EN 362, CE EN 12275, type K (K and B for M34 SL), UIAA
| Reference | Triact | Ball | Screw |
| --- | --- | --- | --- |
| Weight | 75 g | 75 g | 70 g |
| Major axis strength | 27 kN | 27 kN | 27 kN |
| Minor axis strength | 8 kN | 8 kN | 8 kN |
| Open gate strength | 8 kN | 8 kN | 8 kN |
| Gate opening | 24 mm | 25 mm | 25 mm |
| Guarantee | 3 years | 3 years | 3 years |
Specifications
Gate Type:

Solid

Lock Type:

Triact-Lock & Ball-Lock (Auto-locking), Screw-lock (Screwgate)

Shape:

--

Gate Opening Size:

Triact-Lock (24mm), Ball-Lock & Screw-lock (25mm)

Closed Gate Strength:

27kN

Open Gate Strength:

8kN

Cross Loaded Strength:

8kN

Weight:

Triact-Lock & Ball-Lock (75g), Screw-lock (70g)