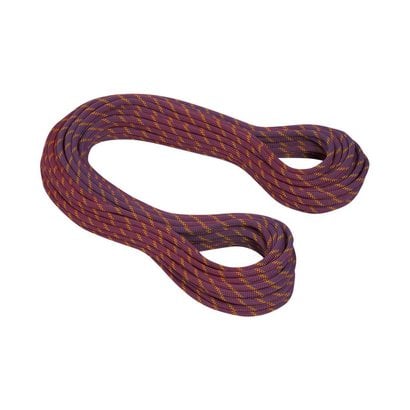 Mammut
8.5mm Genesis Dry - 60m
Product description
Brand:

Mammut

Availability:

In stock
Robust double rope with high safety margins! The 8.5 Genesis offers outstanding handling and excellent safety for alpine climbing routes on rock and ice as well as for classic glacier travel even in three-person rope teams. The DRY treatment guarantees long lasting protection from dirt and water.
Details:
Dry treatment on both sheath and core protects against water and dirt.
Special heat treatments incorporated into the Dry process also increase the tenacity of the nylon fibers, making it 120% more abrasion resistant than a non-treated rope.
Comes lap-coiled by the factory, so ready to climb.
Certified as both a half and twin rope so you can choose the technique that best suits the climb.
Kernmantle design features a stretchy core protected by a durable outer sheath which combine for strength and good handling.
Specifications
Ideal Use:

Alpine, Snow, Ice and Mixed

Rope Type:

Half ½ or Twin ∞

Diameter:

8.5 mm

Weight (g/m):

45 g/m

Impact Force:

[Half] 5.6 kN, [Twin] 8.3 kN

UIAA Factor Falls:

[Half] 12-13, [Twin] 20+

Dynamic Elongation :

32%

Static Elongation:

9%

Sheath Amount:

49%

Core Amount:

--

Rope Treatment:

Dry Core and Sheath

Middle Mark:

Yes

Manufactured In:

Switzerland