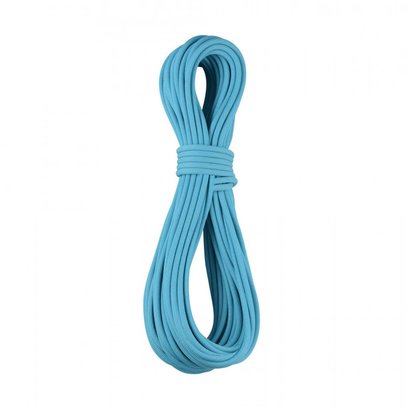 Edelrid
Apus Pro Dry 7.9mm
Availability:

Out of stock
The new Apus combines outstanding strength, safety and handling with a slight diameter. The go-to rope for alpine adventures. ...
More information
Product description
Brand:

Edelrid

EAN:

4052285310837

Availability:

Out of stock
The Edelrid Apus 7.9mm can be used as either a half (double) or twin rope and weighs in at just 42 g/m. This means that it is the ideal choice for extreme mountaineering, alpine and mixed routes where saving a bit of weight could make the difference.
Despite having a thin diameter and low weight the Apus still manages to hold 8-9 test falls as a twin and an impressive 20 double falls so any doubts about how safe it is can fade away. As part of the Pro Line of Edelrid Ropes the Apus has Pro and Dry shield treatments to keep out the dirt and repel water whilst the Thermo Shield makes for great handling and suppleness.
Details:
Double and Twin Rope Certified
Pro Shield finish for optimal performance
Dry Shield finish for outstanding dirt and water resistance
Thermo Shield treatment for perfect handling
Specifications
Weight:

42 g/m

Rope Type:

Half, Twin

Diameter :

7.9mm

Rope Treatment:

Dry

Middle Mark:

None

Sheath Proportion:

35%

UIAA Fall Rating:

[half] 8, [twin] >30

Impact Force:

[half] 6.7 kN, [twin] 10.3 kN

Static Elongation:

[half] 9.2%, [twin] 6.7%

Dynamic Elongation :

[half] 31%, [twin] 27%

Ideal Climbing:

Snow, ice, mixed