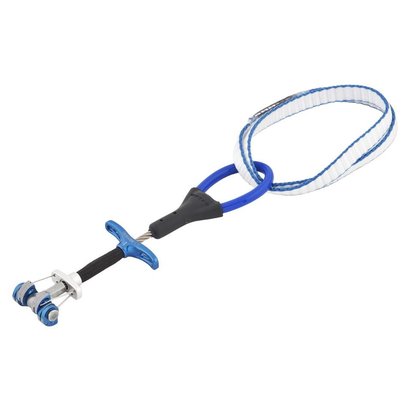 DMM
Dragonfly Micro Cam
DMM pulled out all the stops to produce this is beautiful piece of kit and it really shows. The Dragon Cams are a perfect blend of strength, lightness and function; put simply they are a joy to use. ...
More information
Product description
Brand:

DMM

Availability:

In stock
Monte's (Black Sheep Adventure Sports') Pick. "[...] they're impeccably built with a clean and smooth action. The narrow head and compact trigger make these new cams ideal for small pockets, pin scars and thin cracks." Read more of his Gift Ideas Here.
The same camming angle of 13.75°, as used with the Dragons, provides the optimum balance of holding power and range. You will appreciate the holding power of the TripleGrip lobes with their 'raw alu' surface, particularly on smooth rock types such as slate and limestone. The narrow head width and compact trigger allow the cams to be placed deep in small pockets.
13.75° camming angle - proven optimum combination of holding power, range and performance
TripleGrip lobes with a 'raw alu' surface – improved grip
Ergonomic thumb loop and trigger – easy to handle
Flexible stem cable – minimises walking
Narrow head width – fits small pockets
Compact trigger bar - allows deep placements
Colour coding – quick and easy identification
Extendable 11mm sling with compact stitch pattern – extend either strand
Complement Dragon Cams – size 4, 5 and 6 Dragonfly micro cams overlap with size 00 to 1 Dragons
| | | | | | |
| --- | --- | --- | --- | --- | --- |
| DESCRIPTION | WEIGHT | COLOUR | SIZE | ACTIVE STRENGTH | CAM RANGE |
| Dragonfly 1 | 55 | Green | 1 | 6 kN | 7.8-11mm |
| Dragonfly 2 | 56 | Red | 2 | 6 kN | 8.7-12.9mm |
| Dragonfly 3 | 65 | Gold | 3 | 8 kN | 10.2 - 15.2mm |
| Dragonfly 4 | 67 | Blue | 4 | 8 kN | 12.1 - 17.9mm |
| Dragonfly 5 | 70 | Silver | 5 | 9 kN | 15.1 - 22.5mm |
| Dragonfly 6 | 73 | Purple | 6 | 9 kN | 19 - 28.3mm |