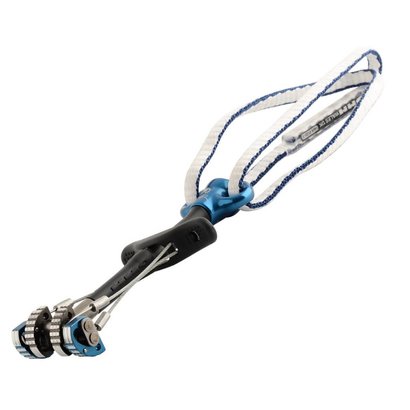 DMM
Dragon Cams
DMM pulled out all the stops to produce this is beautiful piece of kit and it really shows. The Dragon Cams are a perfect blend of strength, lightness and function. Put simply, they are a joy to use. ...
More information
Product description
Brand:

DMM

EAN:

5031290201865

Availability:

In stock
DMM combines over 30 years of manufacturing and design experience, with their vast wealth of climbing knowledge, to create a state-of-the-art cam that makes the most of every placement.
An increased contact area with a raw aluminium finish and additional bite points are the hallmarks of the revolutionary TripleGrip cam lobes. The result is greater holding power and reduced walking, particularly in slick or soft rock types and sub-optimal placements.
Single stem, dual axle design gives DMM Dragons 360° flexibility and the greatest expansion range, increasing both performance in sub-optimal placements and your chance of getting the right
piece first time.
The hot forged thumb press improves ergonomics while reducing the chance of a fumble from gloved hands or pumped fingers, while the extendable sling cuts down on quickdraws needed to extend placements, significantly reducing weight on your harness. The design of the thumb press means that the strength of the Dragon suffers no compromise when the sling is extended.
Features:
TripleGrip cam lobes give increased holding power and reduce walking
Dual axle, single stem design for 360° flexibility and a large expansion range
Ergonomic, hot forged thumb press with extendable 8mm Dyneema sling
13.75° cam angle for high holding power
| Variant | Weight | Strength | Passive Strength | Range | Colour |
| --- | --- | --- | --- | --- | --- |
| Dragon 00 | 75g | 10kN | 9kN | 13-21mm | Blue |
| Dragon 0 | 85g | 14kN | 12kN | 16-25mm | Silver |
| Dragon 1 | 103g | 14kN | 14kN | 20-33mm | Purple |
| Dragon 2 | 117g | 14kN | 14kN | 24-41mm | Green |
| Dragon 3 | 128g | 14kN | 14kN | 29-50mm | Red |
| Dragon 4 | 154g | 14kN | 14kN | 38-64mm | Yellow |
| Dragon 5 | 208g | 14kN | 14kN | 50-85mm | Blue |
| Dragon 6 | 299g | 14kN | 14kN | 68-114mm | Silver |
Link: More info