Posted on
By Climb On Staff (Colin, Jarrett, Yuki, Katy)
Black Diamond founder Yvon Chouinard famously said he didn't own a tent until he was almost forty. Coming from an expert like Chouinard, who put up first ascents on El Cap, Fitz Roy and the South Howser Tower in the 60s, it might make you think tents aren't necessary. However, Chouinard wasn't your average climber, he survived entire seasons in Yosemite by dumpster diving, hunting porcupines and eating cat food. To boot, tents of his era were heavy, cumbersome and not particularly waterproof, making the underside of boulders and snow caves comfier than the tents available to him.

Since the Golden Age in The Valley, manufacturers have been refining their products and are now offering a wide range of tent options for a spectrum of activities from car camping to high altitude climbing. The abundance of options can make the buying process complicated, so we wanted to offer some insights into the world of tents. We'll go over a few defining characteristics of tents, explain what 30D x 430T fabric is, offer some advice to maximize the lifespan of your precious tent, and ultimately help you decide which tent you'll call basecamp for your next mission.
Jump to: Tent Anatomy — Tent Construction — Fabrics — Waterproofness — Features to Consider — Other Types of Shelters — Maintenance — Conclusion
1. Tent Anatomy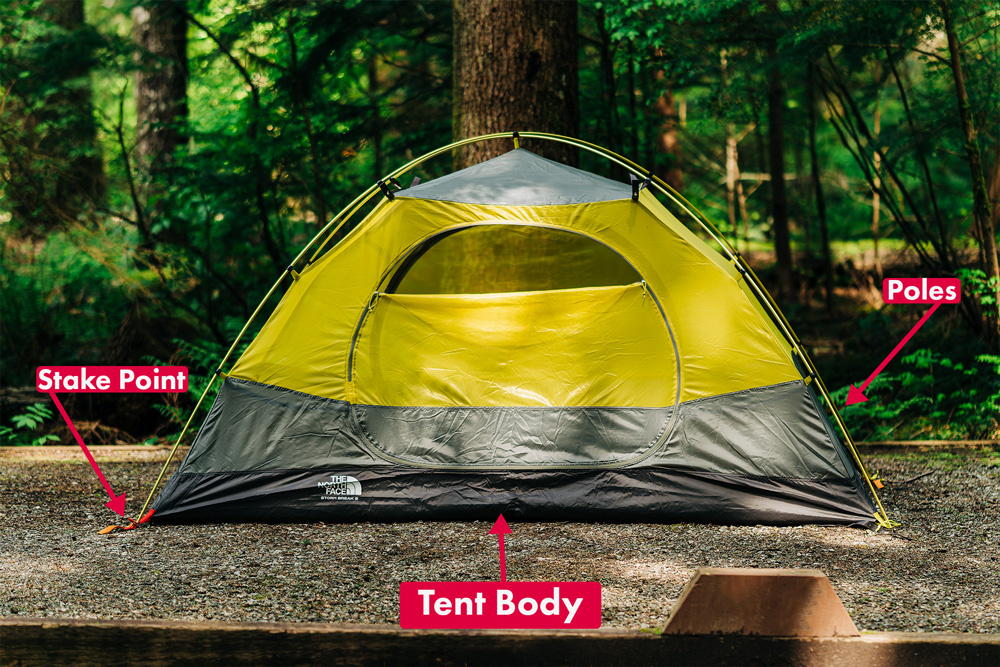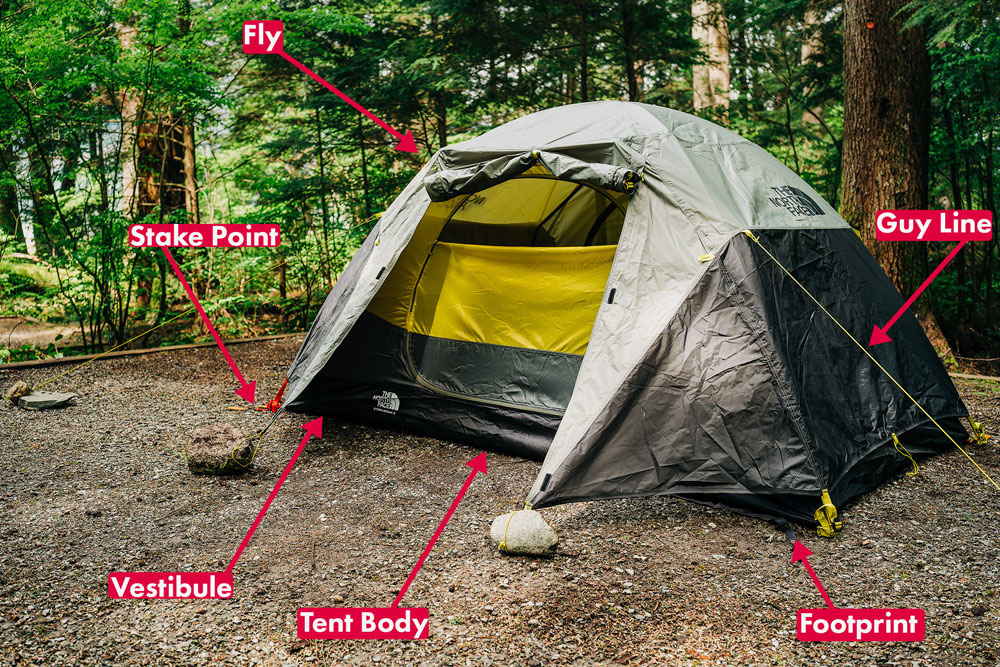 2. Tent Construction
Three main components make up a tent: the body, the rainfly and the poles. How these parts work together, how they're designed and what they're made out of will determine which activity, season, terrain and climate your tent is best suited for.
Double-Wall Tents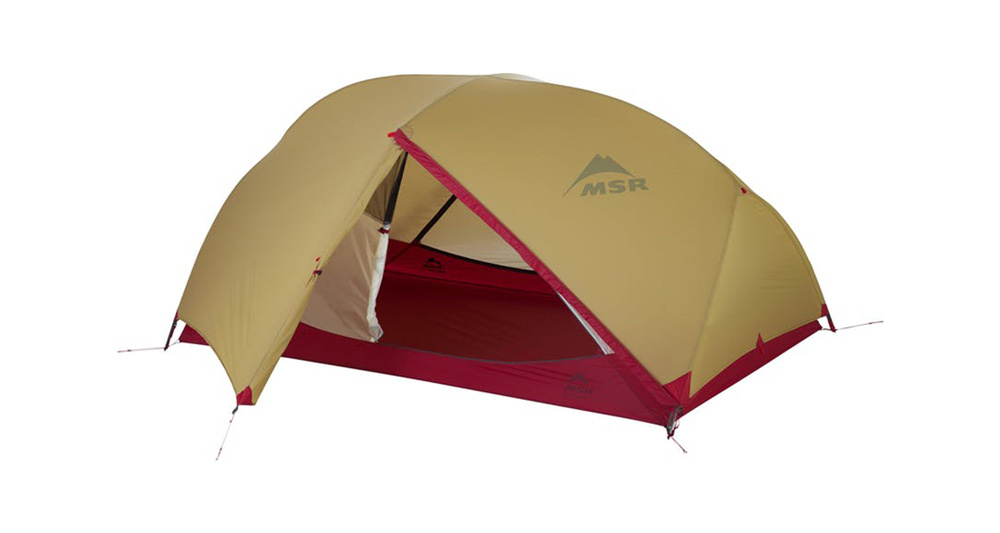 The clever design pictured above is a double-wall tent. They're called this because the body and rainfly are separated into two walls. The body is made with a breathable fabric to maximize airflow while the outer wall (a.k.a rainfly) is designed to protect you from the elements and track water away from your tent. Double-wall tents have vestibules to store your gear and are best at maximising airflow to help campers deal with their number one enemy: condensation.
Condensation is formed on the inside of your tent's rainfly when your warm breath hits the cold rainfly and condenses into liquid. This is because cold air cannot hold as much moisture as warm air. Condensation formed in a double-wall tent trickles down the rainfly and away from your tent's body to keep you and your sleeping bag dry.
Double-Wall Tent Seasonality
Because double-wall tents allow for the most amount of airflow compared to single-wall tents, you can remain comfortable in any weather from summer heat to winter blizzards. However, some double-wall tents are better for the heat of the summer, while others are comfortable only in the winter.
Double-Wall 3-Season Tent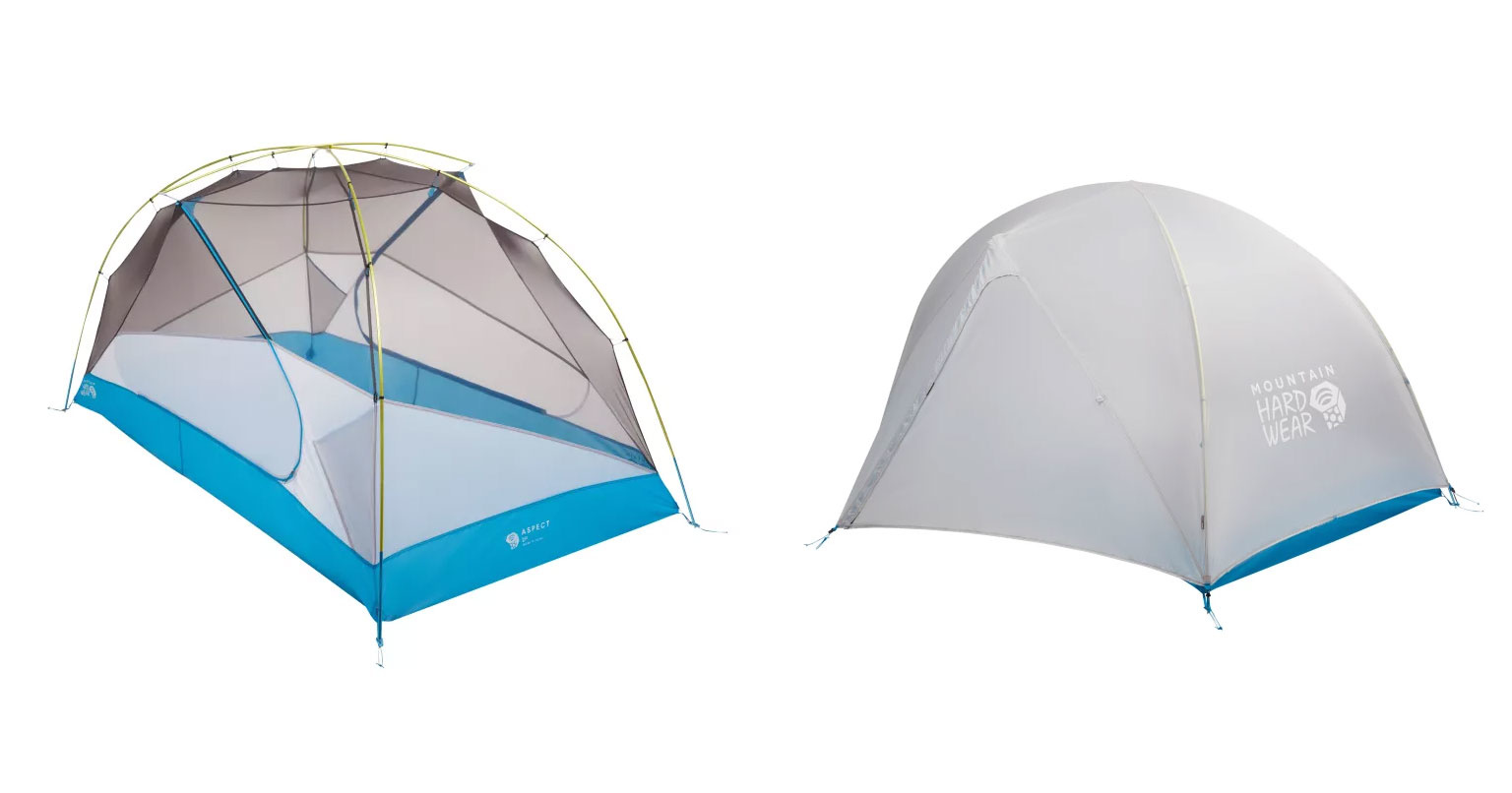 Three-season double-wall tents are designed for utmost comfort in warm summers and drizzly, cool autumns. However, they won't offer maximum comfort in a winter blizzard because they're essentially a trimmed down version of their 4-season sibling. You won't get heat retaining walls or as many guy-points to help withstand the wind gusts, but you will find they're lighter and more comfortable in the hot weather due to more mesh allowing for added air flow.
Double-Wall 4-Season Tent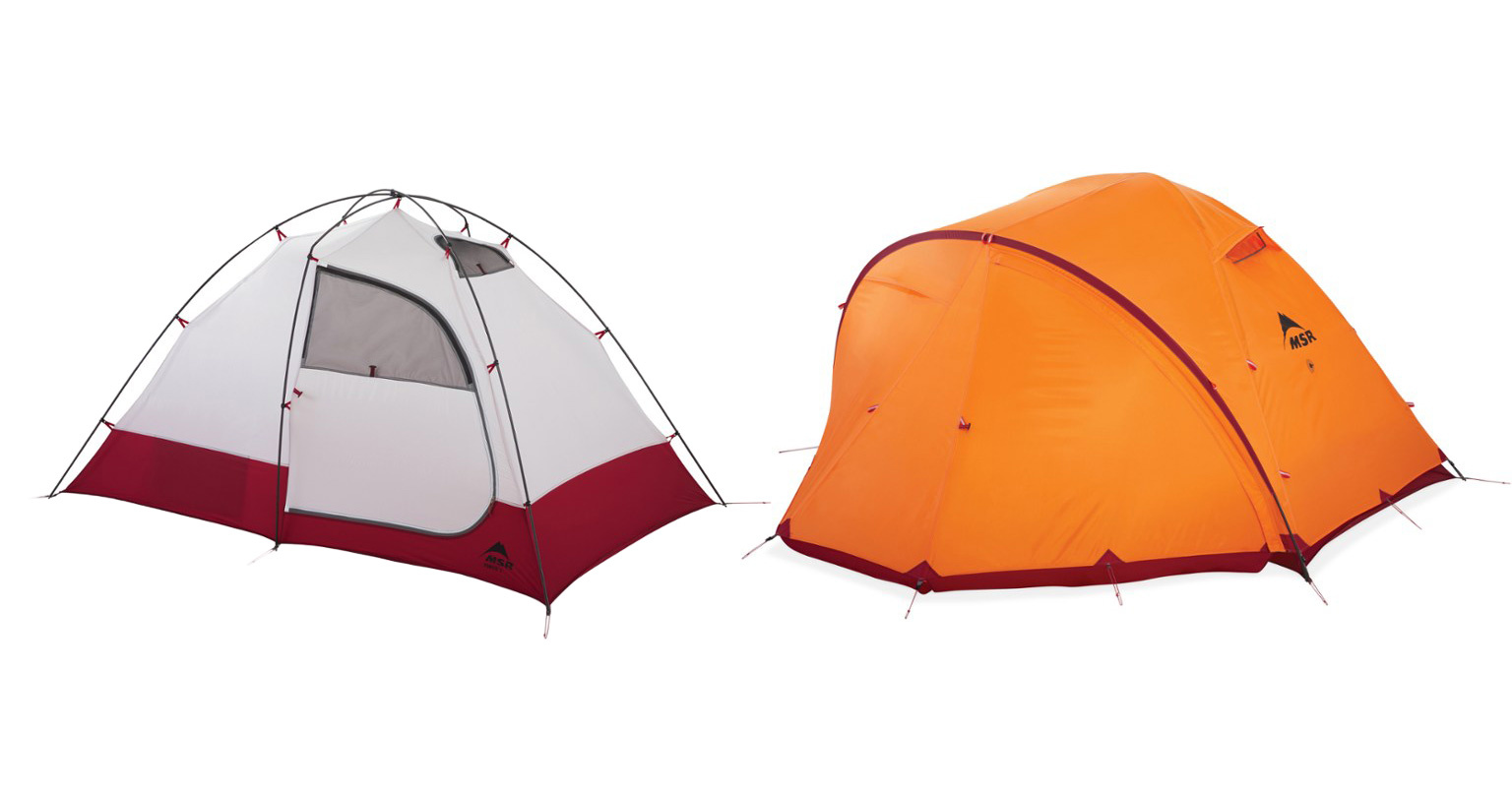 Four-season tents are built to withstand harsh winter weather. These tents feature strong body fabric, reinforced guy-out points and more poles to increase rigidity against raging winds and loading snow. They also have mesh doors with closable vents to keep heat in and unwelcome snow out. As well, they have extra length or snow drift protection flaps on the rainfly to keep the walls of your tent, and your stored gear, from coming in contact with snow. These materials, features and construction make 4-season tents perfect for camping on snow whether you're alpine climbing or ski touring.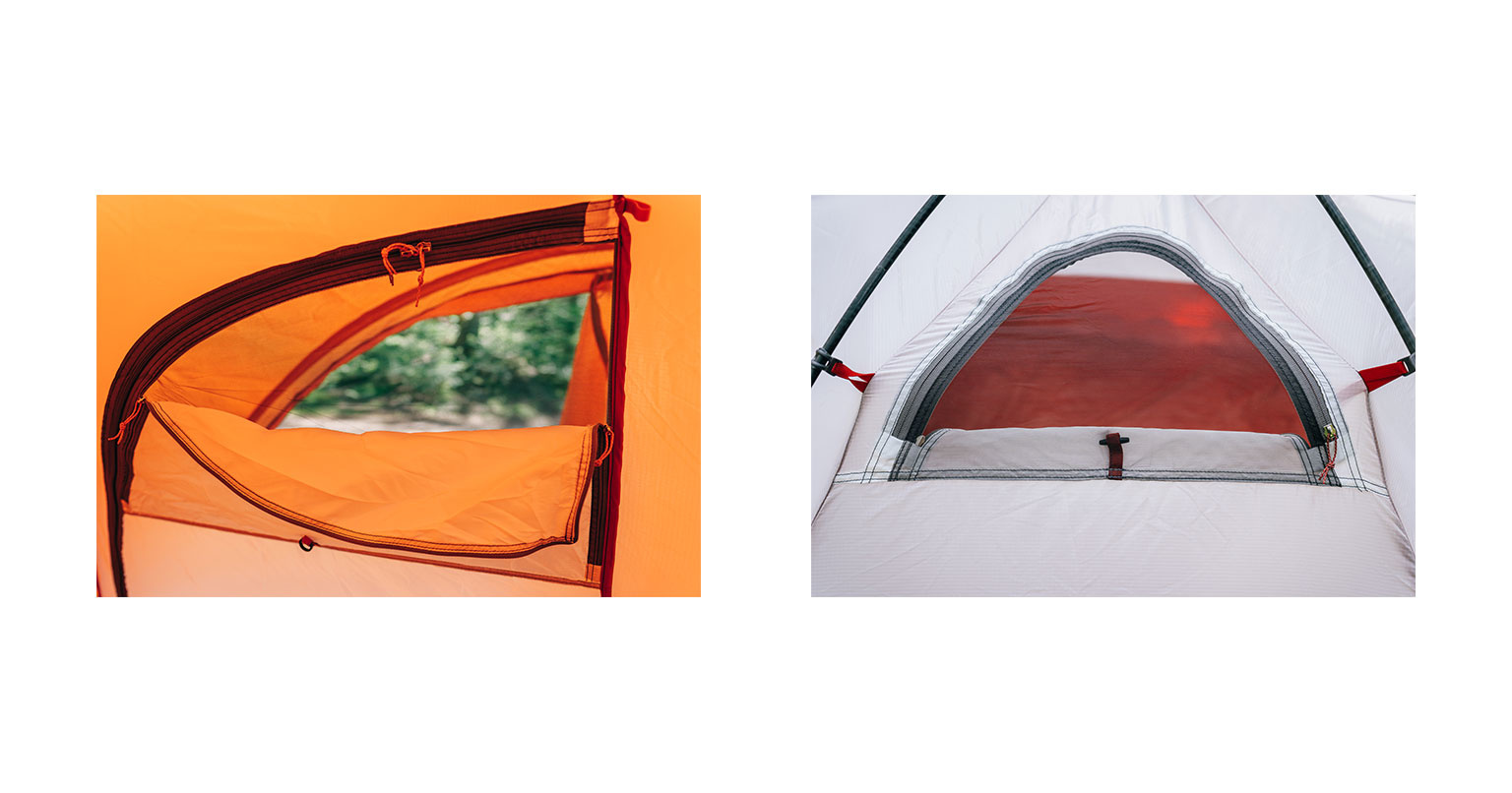 Pros
Less condensation
Durable
Versatile
Waterproof
Comes with a vestibule
Option to set up in 'Fast & Light' configuration (i.e. fly and footprint only)
Cons
Heavy
Less packable
Takes more time to set up (i.e. staking the fly and body to the ground)
Larger footprint
Single-Wall Tents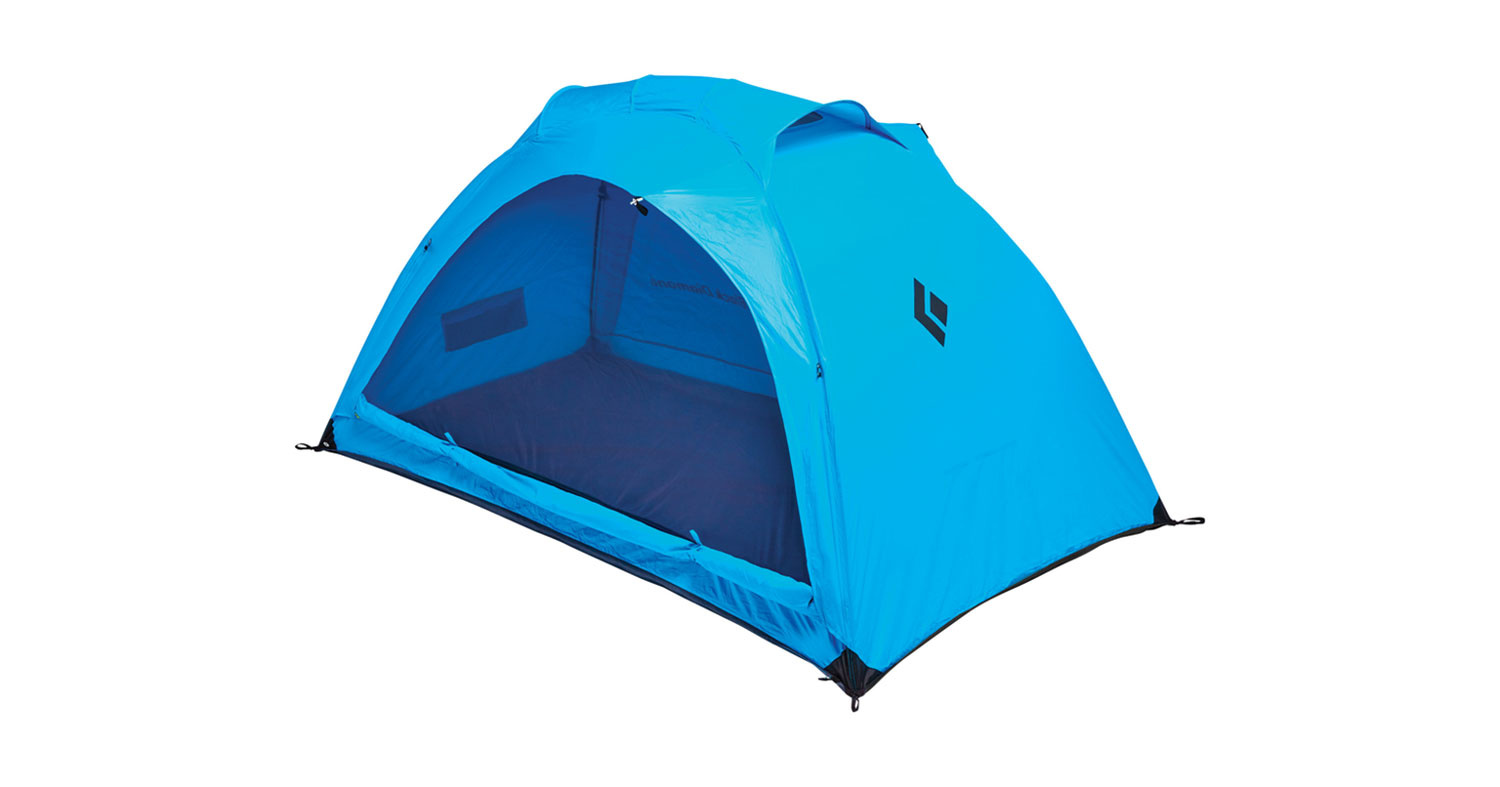 Single-wall tents integrate the body and rainfly into one wall. It's best to think of them as 4-season tents that are specialised for alpinists because they can withstand some wind and snow, are lightweight, and convenient to set up when on a small ledge. These tents aren't designed for warm or humid weather because waterproofness and breathability vary in this tent category. Make sure to double check your tent's specifications for waterproofing and breathability before getting caught in sopping conditions.
Pros
Reduced weight
Less bulk
Easy to set up
Smaller footprint requiring less space to set up
Cons
Condensation
Not all are waterproof
No vestibule
Less livable space
3. Fabrics
To the untrained eye, tent fabrics can seem all the same. With a little training however, anyone can begin to decipher the numbers, letters and words that make up the algebraic-like equation of different tent fabric specifications. Take the MSR Remote 2 Person Mountaineering Tent for example. A double wall tent where the floor fabric of this tent is described as having: 40D ripstop nylon 10,000mm Durashield™ polyurethane & DWR while the rainfly has 68D ripstop polyester 1,500mm polyurethane & DWR. The floor and rainfly fabrics have different specs to optimally balance the weight and durability of a tent. Let's break down MSR's Remote 2 Person Mountaineering Tent fabric for you.
Denier
To start, denier (D) refers to the denier count of the fabric. A denier is a measuring unit corresponding to one gram (g) per 9000 metres (m) of yarn. So, if your fabric is labelled as 40D, it means that each yarn of that fabric has a mass of 40g per 9000m. A higher denier count means the yarns used to weave your tent's fabric will be heavier because they have a higher diameter, giving the fabric more durability. However, the yarn's diameter isn't the only indicator of a fabric's durability.
Ripstop
Next, Ripstop refers to a common way of weaving fabrics by integrating higher denier yarns at a regular interval. The theory behind this is higher denier threads will stop a rip from spreading. You can usually see if a fabric is Ripstop or not by looking for small square patterns created by the higher D threads on the fabric (see photo below).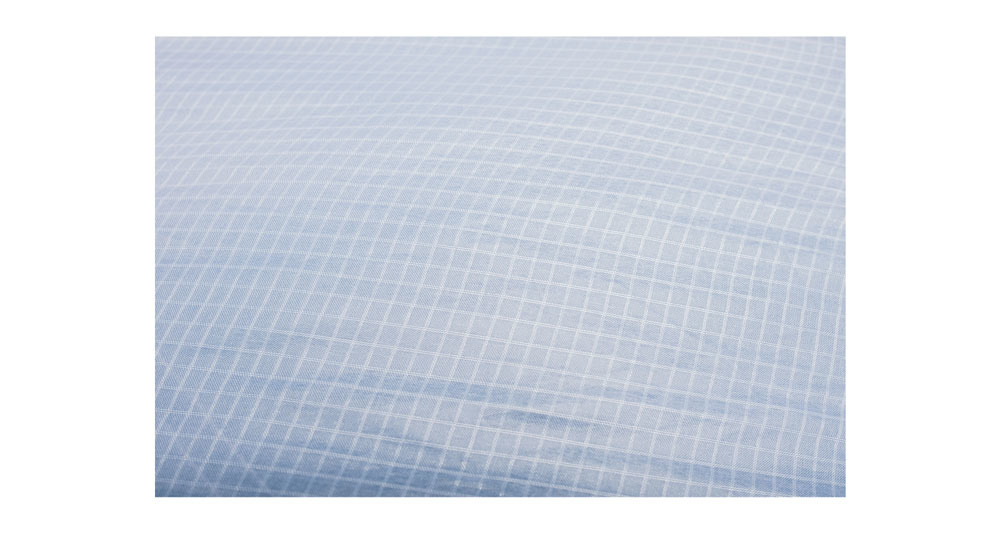 Types of Fabrics
The most commonly used fabric is nylon, but it's not the only one used in the world of tents. Polyester, which is stronger, less stretchy, less expensive, but heavier than nylon, is used in a number of budget-oriented models. In recent years, the ultralight market has seen a number of high-end tents made from Ultra-High-Molecular-Weight Polyethylene (UHMWPE), a.k.a Dyneema®, introduced. Although Dyneema® is significantly more expensive than nylon, it's also quite a bit lighter, more durable and waterproof.
4. Waterproofness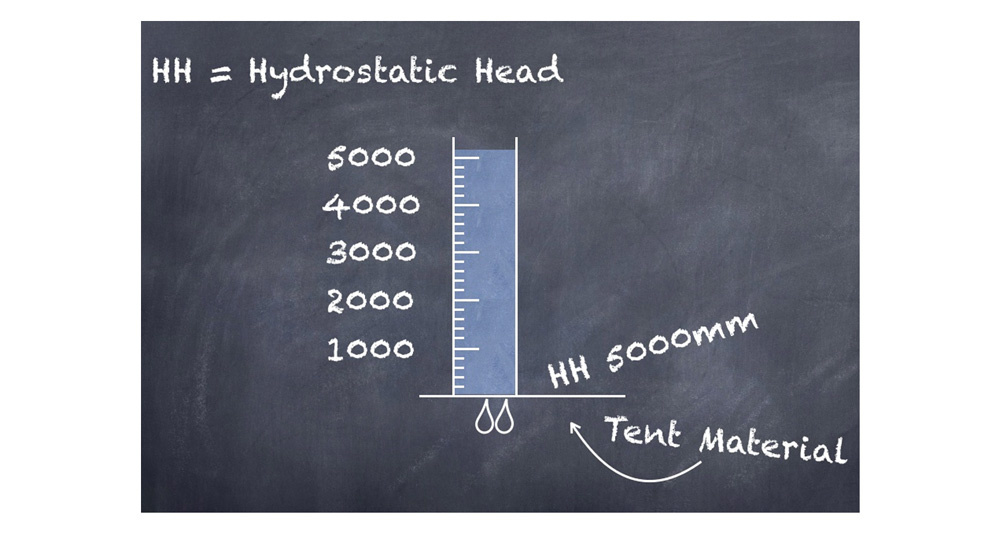 To determine how waterproof a material is, your tent must undergo what's called a Hydrostatic Head test. This test is measured in millimetres (mm) and corresponds to the height of the water column that can be applied onto your fabric before water seeps through. The higher the number, the more waterproof a material is.
Double-Wall Tent Waterproofness
Typically, waterproofness measurements for double-wall tents range from 1,000mm to 3,000mm for rainflies and from 1,200mm to 10,000mm for floor fabrics. Floor fabrics require a higher waterproof rating because it's the part of your tent being pushed against wet surfaces. The floor of a 4-season tent has higher waterproof ratings than the floor of a 3-season tent because they're usually used on snow.
Single-Wall Tent Waterproofness
Single-wall tents are best known for being lightweight, easy to set up but unfortunately most aren't built for rain. Waterproofness ratings for most single-wall tent walls range from 1,000mm to 1,500mm while the floors are about 3,000mm. However, higher end single-wall tents (think Dyneema®) will have a waterproofness rating of up to 20,000mm.
Type of Waterproof Coatings
Continuing with our example, Durashield™ polyurethane is the type of waterproof coating applied to the fabric of the MSR Remote 2 Person Mountaineering Tent. Most tent fabrics are coated with polyurethane and/or silicone coatings to get the desired waterproofness. Polyurethane (PU) is used because it's less expensive and allows for a higher waterproof rating. However, PU decreases tear resistance of the fabric and is hydrophilic (meaning it likes and absorbs water). Fortunately, the absorption rate for PU is very slow, but it will saturate eventually. With silicone coatings, it's hard to achieve as high of a waterproofness rating compared to PU, but you do get increased tear resistance. Silicone is also hydrophobic, meaning the fabric won't saturate. Some products will have silicone/PU coatings, meaning one side of the fabric is treated with PU (often the inside) and the other side is coated with silicone.
DWR
As for DWR (Durable Water Repellent), it simply means that a water droplet dispensing spray has been applied to the fabric on top of the waterproof coating. The fabric is then able to bead water off instead of becoming saturated when exposed to water. DWR won't last forever and needs to be reapplied. Unfortunately, PFCs (polyfluorinated chemicals) were—and sometimes still are—commonly found in DWR coatings. Before it was discovered that PFCs have a long-lasting hazardous impact on the environment, applying such chemicals to textiles was commonplace during manufacturing. Nowadays, many companies are applying Non-PFC DWR treatments to their tents (and other apparel and gear) as a way to mitigate environmental degradation.
5. Features to Consider
Structure
You need to consider how your tent will maintain its structure. Some tents maintain their structure by being staked to the ground while others can stand on their own. The type of terrain you're sleeping on will determine which type of tent structure will, or won't, work for your trip.
Freestanding Tents
As the name suggests, freestanding tents are designed to stay upright without being staked to the ground. If you're sleeping on rocky or sandy terrain where tent stakes are difficult to secure, you'll want a freestanding tent.
Non-Freestanding Tents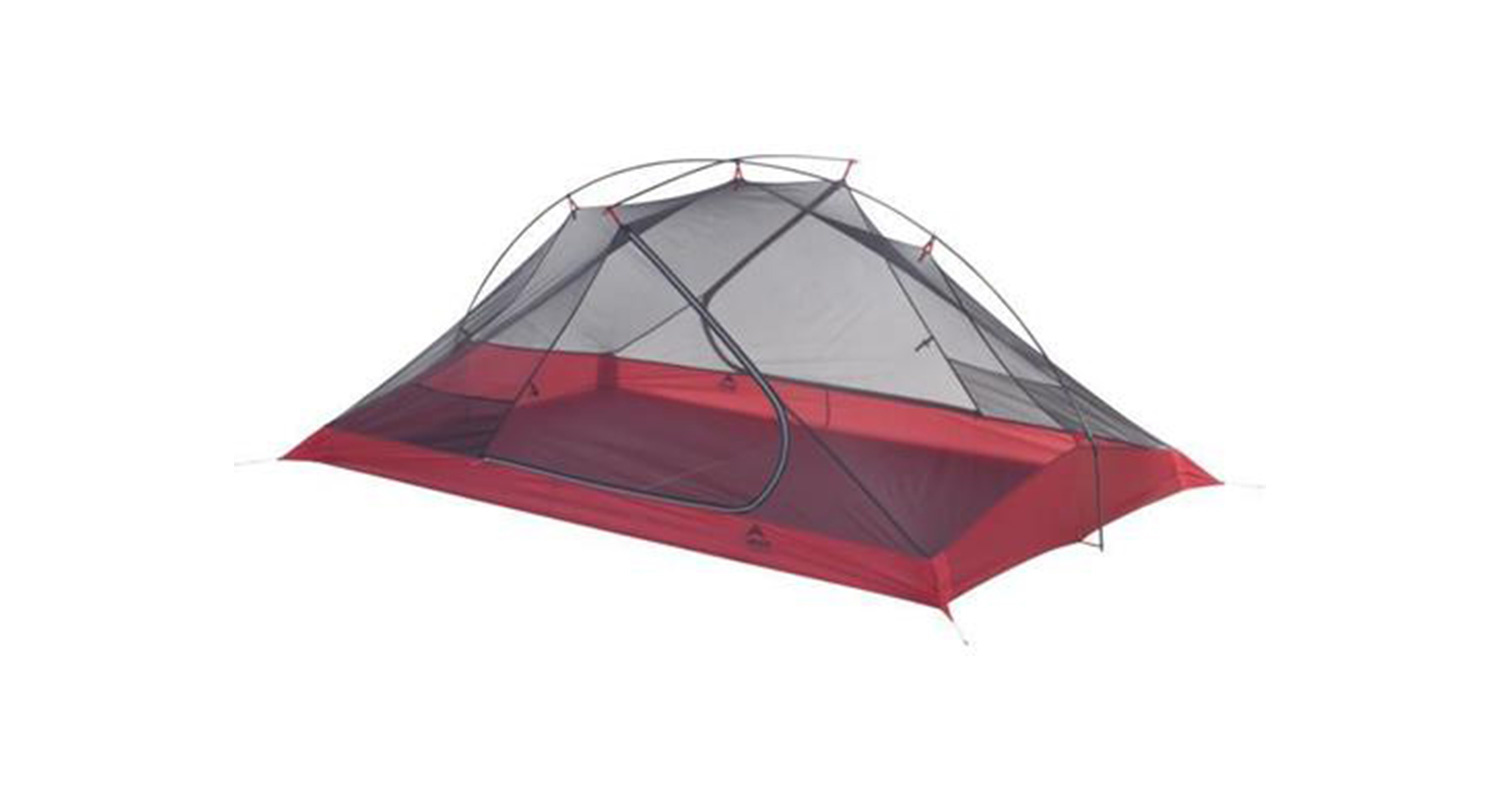 Non-freestanding tents need to be staked to the ground to be used. The bottom line here is that even though non-freestanding tents are packable and light, they can't be used everywhere. On sandy ground or rocky terrain, it'll be more cumbersome to set them up properly.
Semi-Freestanding Tents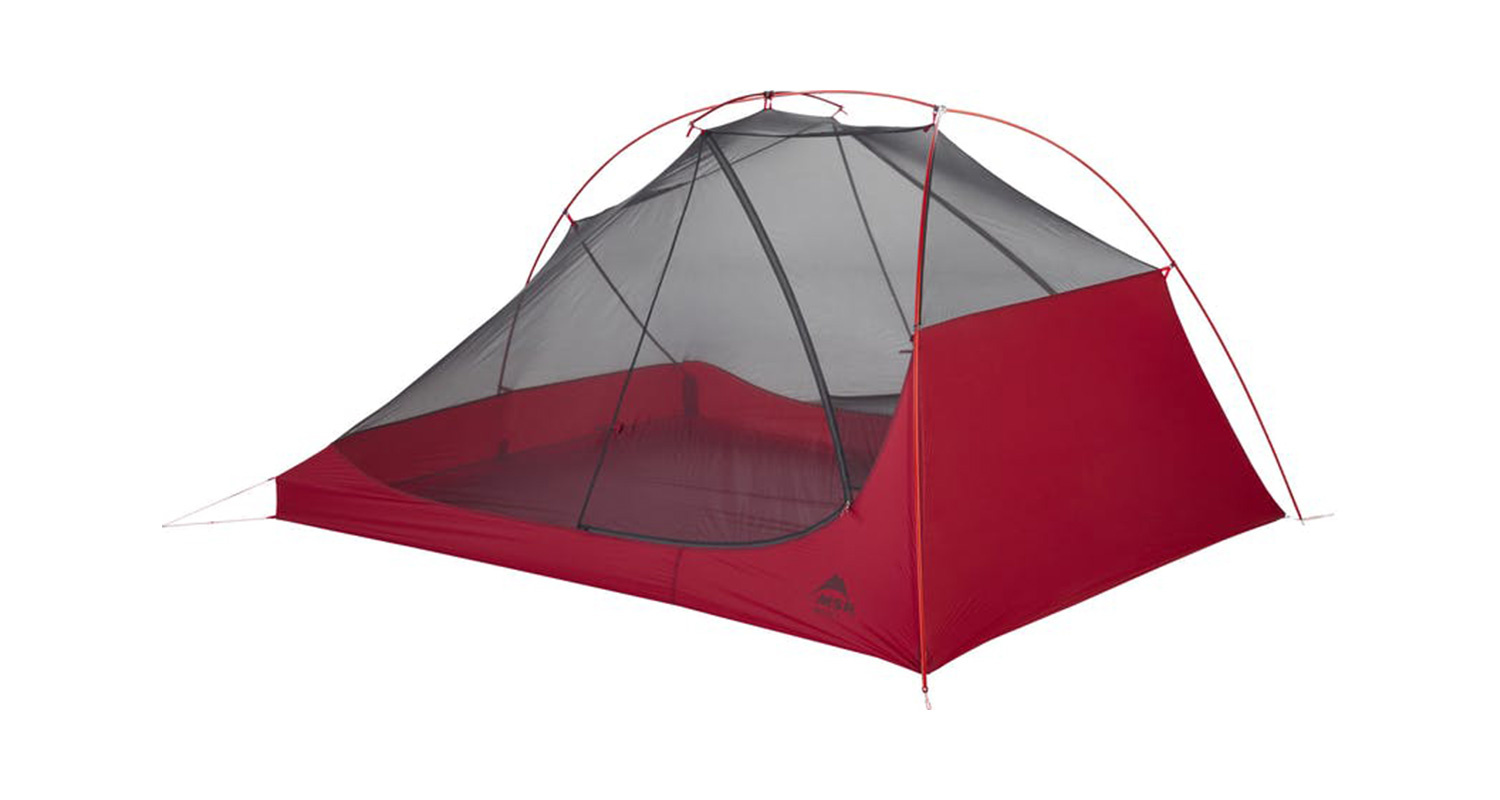 Semi-freestanding tents can almost stand up by themselves, sort of like a toddler learning to walk. Semi-freestanding tents are designed to maintain their structure by using both the tent's poles and guy lines. Again, it's important to take into account what kind of ground you'll be camping on for these shelters.
Weight
The outdoor industry came up with an optional standard regarding a tent's weight to help customers and companies make sure their tent's advertised weight was accurate. This standardised measurement can be referred to as Packaged weight or Total weight. Sometimes, we'll also see a tent's Minimum weight (also referred to as Trail weight) or its 'Fast & Light' weight (sometimes called Fast Fly weight, Fastpack weight, Fly weight…etc) specified.
Packaged Weight
When it comes to packaged weight, all of the contents of the tent are weighed. These contents include the tent body, poles, rainfly, stakes, guy cords, bag and whatever else comes with your tent when you pick it up from the store.
Minimum Weight
Minimum weight only refers to the weight of your tent's body, rainfly and poles. This specification will help you determine how much your tent will weigh while moving from one camp to the next.
Fast & Light Weight
For double-wall tents, the third weight you may see on a tent's specification is its Fast & light weight (Fast Fly weight, Fastpack weight, Fly weight…etc). This isn't an industry standard type measurement like packaged weight and minimum weight, but some manufactures will show the weight for only the rainfly, poles and footprint.
Entries
Obviously, you'll need to get in and out of your tent. While it may not seem like a big deal at first, where and how many tent doors you have can help avoid some 'too close for comfort' moments between you and your tentmate.
Side Entry
Having two side-entry doors can be a big plus. This allows you and your tentmate to each have your own door to enter and exit from and to store your gear. This is a huge bonus if your tentmate has a smaller bladder and takes frequent midnight pee breaks. However, not all side-entry tents have two doors, forcing your tiny-bladdered-tentmate to crawl over you in the middle of the night.
Front Entry
While double side-entry tents may seem like a no brainer, tents with one door are usually lighter given they have half the zippers and doors. Front entry tents can also be more convenient because they allow you to escape your tent above or below your tentmate, meaning you'll avoid full-bladder-midnight-wrestlemania.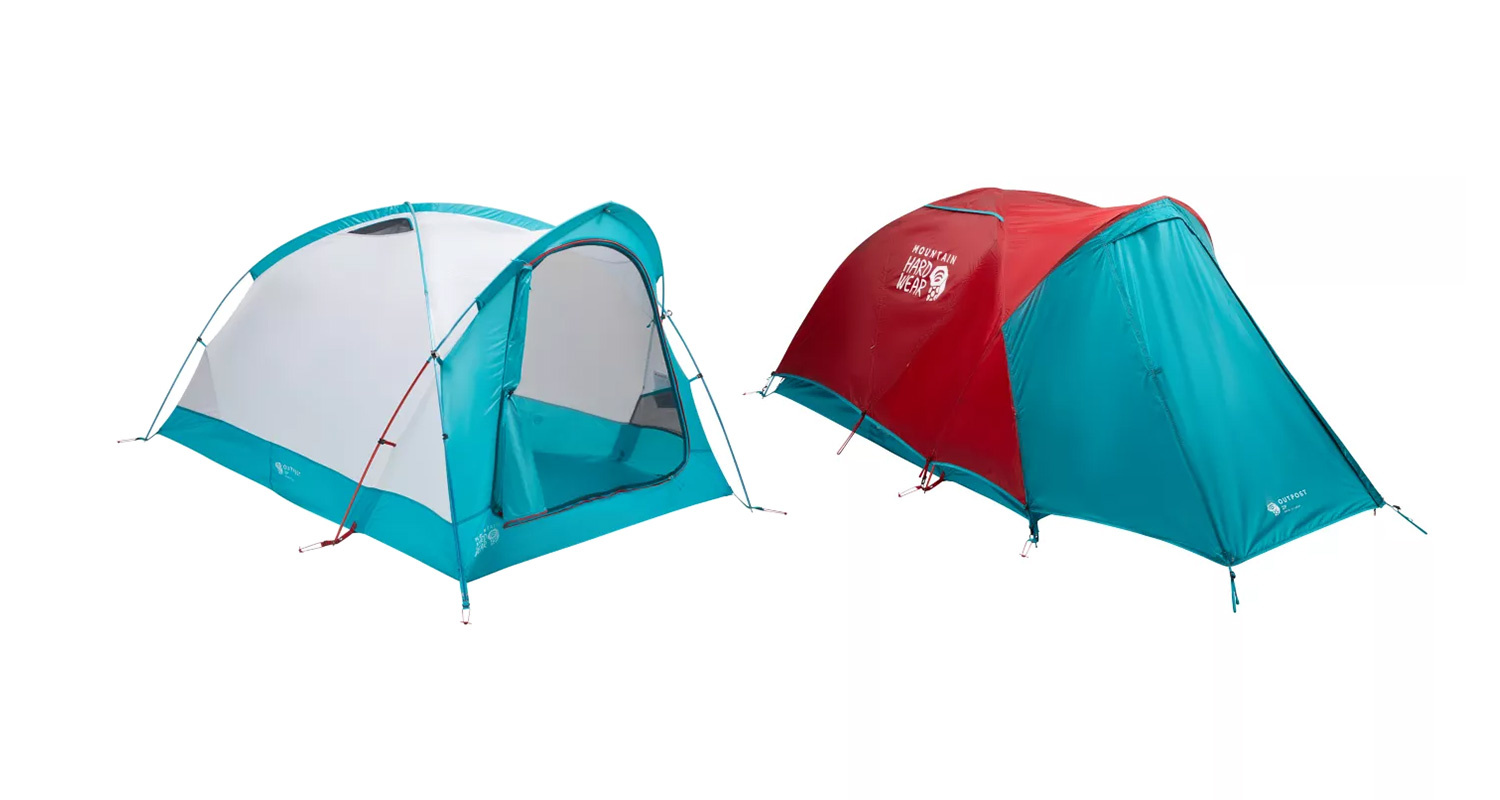 Liveable Space
Overall floorspace and headroom is an important consideration when buying your tent. Some questions to answer when determining how much space you'll need are: Do I need to fit my gear in the tent? Will I be spending a lot of time in the tent? Do I want to be able to sit, squat or stand in the tent? There's no standard for tent space, meaning some tents categorised for 2 people may have a different amount of liveable space than another 2-person tent. For example, floor width for most 2-person tents is around 125cm but can range anywhere from 105cm to 140cm. While 20 to 35cm may not sound like much, it'll make quite a difference when you're stuck in your tent waiting out a storm.
Interior Peak Height & Wall Angle
The higher the interior peak height, the more headroom you'll have at the tent's highest point. Along with interior peak height, you'll need to also consider your tent's shape and wall angle. This is because the wall angles of your tent impacts how crammed you feel while inside. Pyramid shaped tents offer less consistent headroom than dome-shaped tents but will be more packable and lighter. Some dome-shaped tents come with 'brow' poles (given their name because of their similarity in shape to eyebrows) which increase the wall angles to give more head space and prevent water from dripping into the tent when opening the door.
Vestibules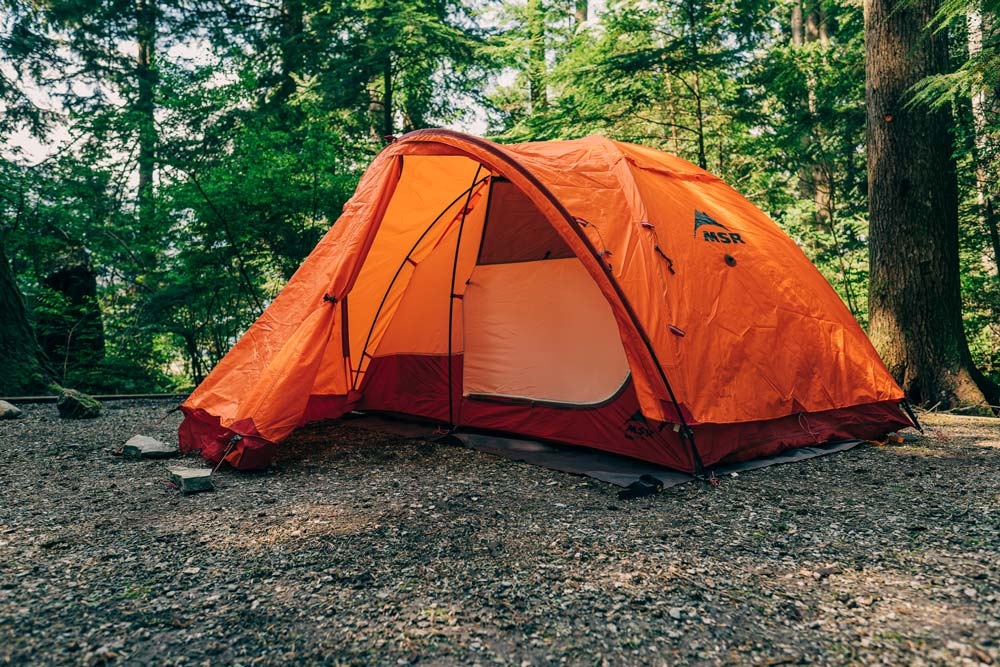 Not accounted for in livable space measurements are vestibules, which are great for storing gear while you sleep. Double-wall tents come equipped with vestibules and 4-season double-wall tents will have bigger vestibules than 3-season double-wall tents. Single-wall tents don't come with a vestibule, but you often can purchase a vestibule as an added accessory. If you do opt for a vestibule, make sure it's made for your specific tent because it will only work with the tent model it's designed for.
Footprint
A footprint is a little tarp made of high denier nylon designed to protect your tent's floor from the ground. To properly protect your floor, it's best to buy the footprint specifically designed to fit your tent model since it will conveniently attach to the end of your tent's poles and is sure to cover the entire floor of your tent. However, any footprint (or generic blue tarp) of the same dimensions can be used in a pinch to keep your tent's floor dry. Make sure the footprint fits flush under the tent as the exposed footprint will collect rain and trap it under your tent.
5. Other Types of Shelters
While this guide focuses on tents, they're not the only shelter options for your next adventure.
Tarp Shelter
Tarp shelters offer additional space at a fraction of the weight, making them popular amongst skiers and other fast & light enthusiasts. The caveat with these is they require additional campcraft skills to be utilised properly so you'll usually find them as part of basecamp on snow-covered glaciers or below treeline. The MSR Front Range is a solid option for winter applications thanks to its sturdy fabric and pyramidal design which helps block wind and shed snow.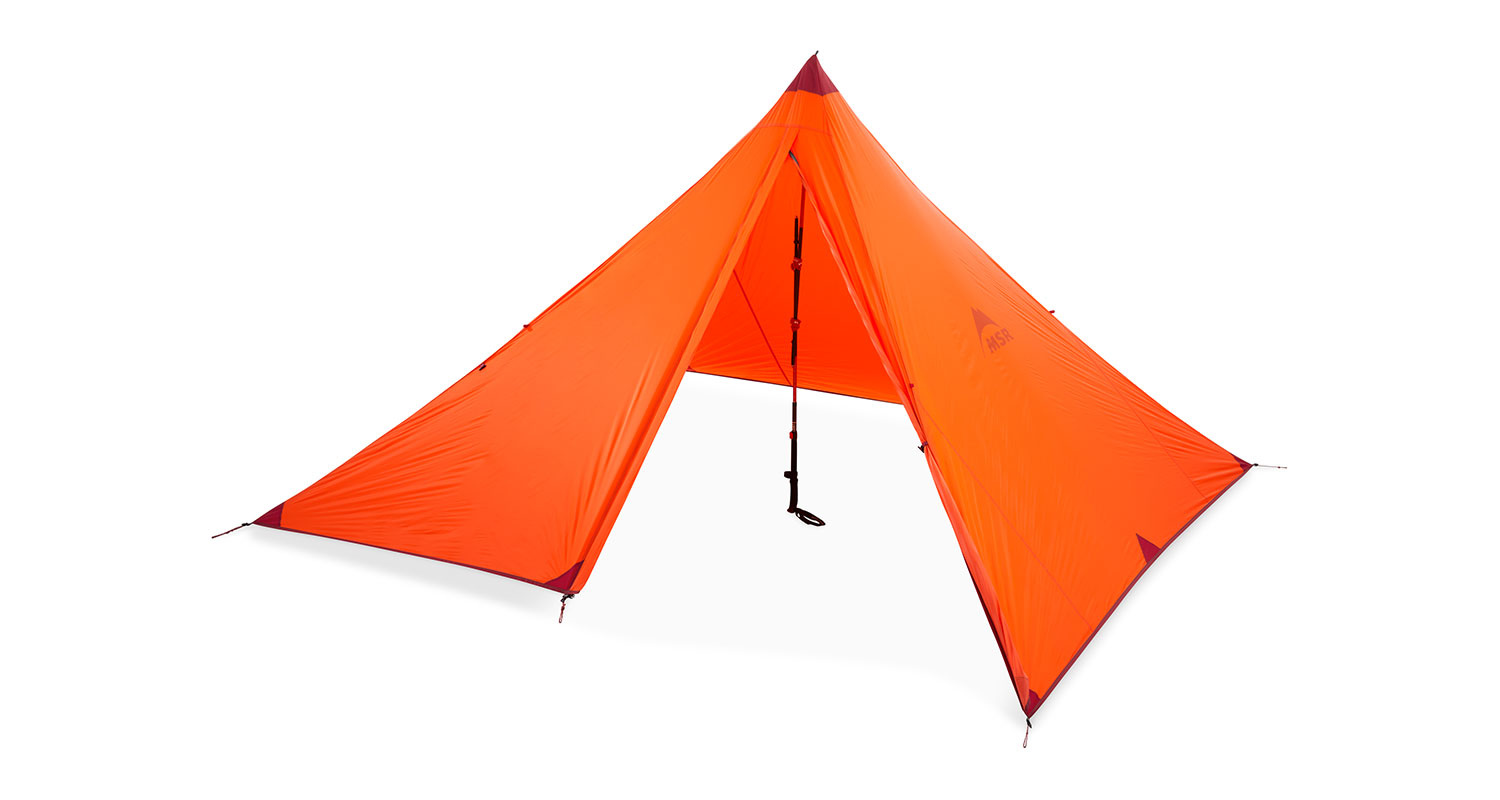 Sil Tarp
In places or climates where bugs won't be an issue, one could consider using a Sil Tarp as a shelter. Sil tarps are also handy as part of a first-aid kit or if you want something to huddle under while you wait out an incoming storm or window of poor visibility while in the mountains. You can also use a sil tarp as a ceiling in snow caves.
Bivy Sacks
Bivy is slang for bivouac, a french word that designates an improvised and rudimentary camp. While they likely won't offer you much comfort, they might just save you from hypothermia on fast & light missions or during your first, or 50th, benightin'. Bivy's are made of a single layer of waterproof fabric and won't insulate you, but will protect you from light rain, wind and snow.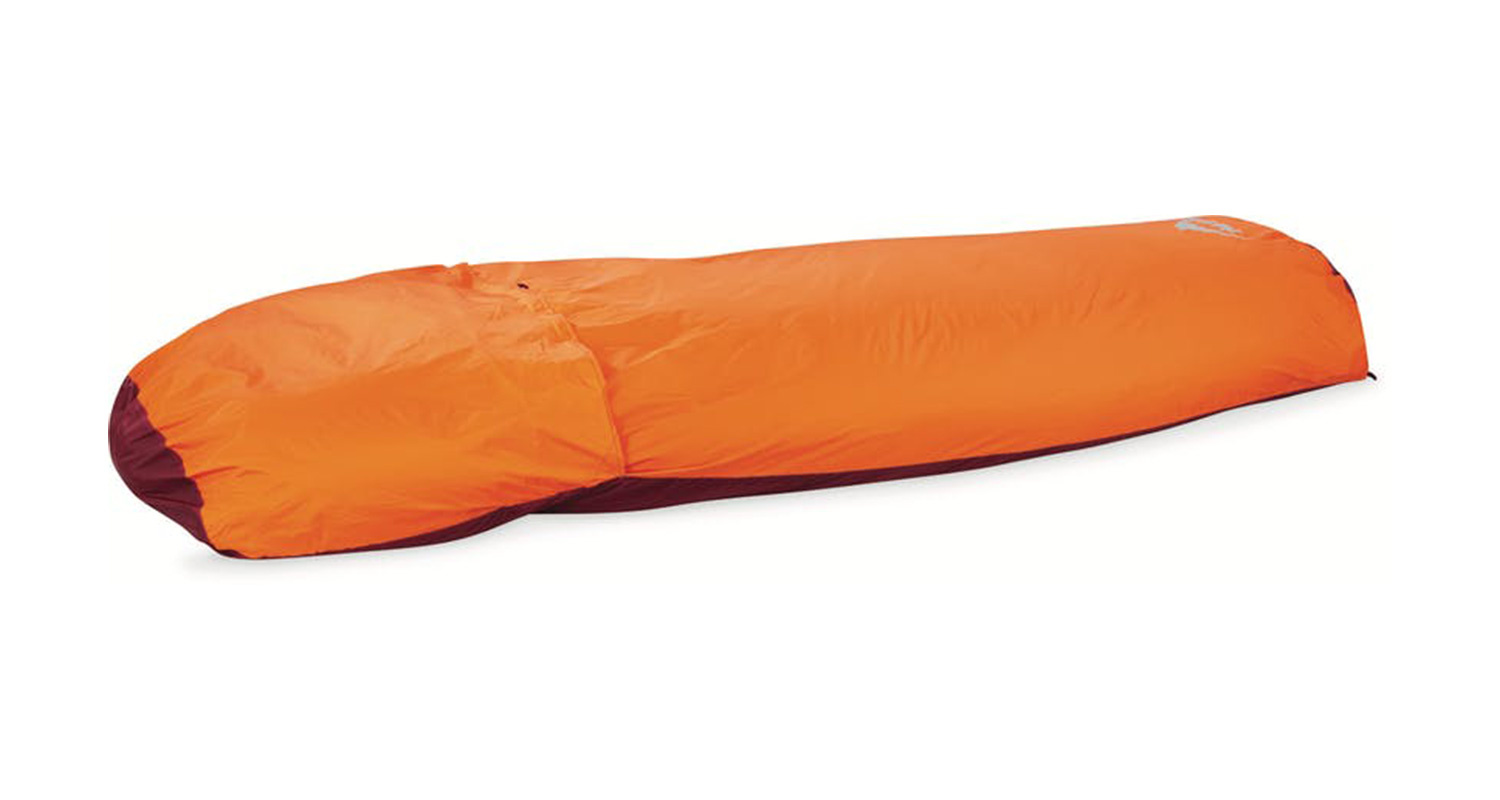 Hammocks
Some solo campers will opt for a hammock instead of a tent. While hammocks are an interesting option, make sure to consider where you will be able to set up your hammock and whether or not you're able to get a goodnight's sleep while slung between two trees. If you choose this option, it's best to add some rigidity to your hammock with a sleeping pad for more support.
6. Maintenance
Like most outdoor gear, tents can last you for a very long time if properly used and maintained.
Dry It Out
The first rule of taking care of your tent is to always make sure it's dry before storing it. Forgetting this important step will quickly lead to mould and an awful smell which may force you to spend a night under the stars like Yvon himself.
No Sharp Objects
You'll want to keep your tent floor away from sharp objects. Lightweight nylon materials, like the ones most tents are built with nowadays, aren't designed to withstand the abuse of sharp rocks. It's best to use a footprint, or generic tarp, like we talked about earlier to protect the tent floor.
Can Tents Get Sunburnt?
Tents take the brunt of the impact while protecting you from the elements. The combined effects of UV rays and oxygen break down the polymer chains that make plastic materials, causing them to become increasingly brittle. One of the best ways to maximize the life of your tent is to minimise unnecessary exposure to the sun. Sprays made to prevent UV wear on plastics are also available, but won't be 100% effective.
Wear and Tear
While nylon degradation due to UV exposure is irreversible, some wear and tear can be easily fixed. For example, small and medium rips can be repaired by applying nylon patches. Gear Aid's Tenacious Tape or Climb On Equipment's Noso Repair Patches work well with nylon and if applied correctly, will stick to fabric for a very long time.
Bursting at the Seams
A tent's seams are likely to leak over time. However, this can be fixed by reapplying seam sealer. Be sure to select the proper sealant since waterproof fabrics vary in composition. Most tents are made with PU coated fabrics, but some use silicone as a waterproofing agent which requires silicone-specific products. PU coatings also tend to peel away after extended use, especially on the floor of your tent. Thankfully, this is easily repairable by reapplying sealant to the damaged area.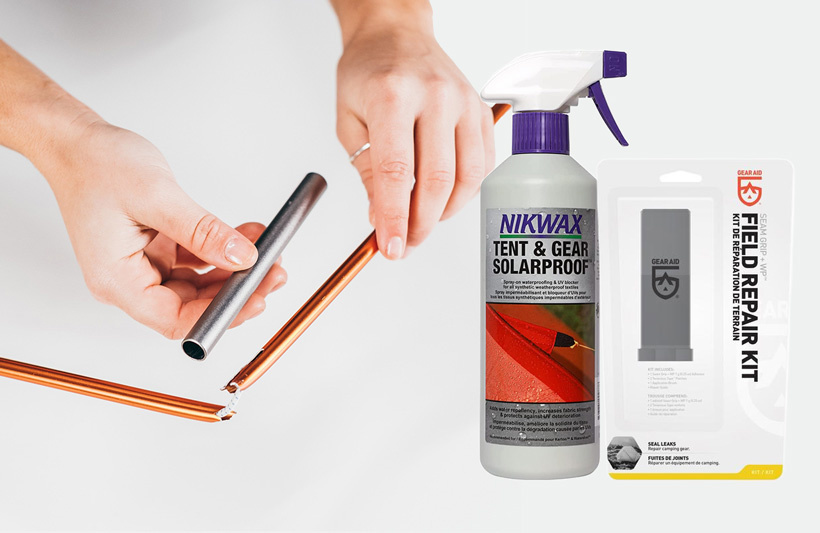 Busted Poles
Broken tent poles can be temporarily repaired by sliding a pole splint (which can be bought separately but sometimes come with your tent) over the broken section of the pole and duct-taping it in place. Tent poles usually break at the joint so you'll likely be stuck with an awkward, unpackable pole once it's fixed. But hey, at least you'll still have a shelter for the time being. Then, once you're back from your trip, you can replace the broken tent pole segment with a new part.
Washing Your Tent
When tents get dirty, and after excessive exposure to sun and smoke, they stop repelling water. Hand wash your tent in the bathtub (don't use the laundry machine) with cool water and make sure to use a neutral detergent or Nikwax's Tech Wash. Let it soak for at least 20 minutes, rinse it with clean water and hang it in a dry place out of direct sunlight until it's completely dry.
Refreshing Your Tent's DWR
After washing your tent, it's best to make sure you reapply a DWR coating. Set up your tent in a well ventilated area and spray on your DWR coating to one section of your tent at a time. Apply the coating to the tent's body, floor and rainfly but not your tent's mesh. Follow the application instructions on your DWR's packaging for best results.
Finally, It's Time to Choose Your Next Tent
Looking to have a comfy base camp during your next trip in Alaska? Then pick up a sturdy, four season double-wall tent and a tarp to cook under. Planning a week in the Bugs? Grab yourself a lightweight 3-season tent that won't make things more difficult on the strenuous approach to Applebee Dome Campground. Looking for a no-nonsense car camping shelter for your next roadtrip? Your average 3-season tent will work just fine and, since weight isn't an issue, you might even consider getting a larger tent designed for more people with luxurious standing-room height.
It's our hope this article helped you in your search for the perfect tent. If you still have questions, feel free to drop by our store, call, or send us an email. We'll be more than happy to help.
Climb On Equipment Staff Favourites
For a 3 day alpine push in El Chalten: Mountain Hardwear AC2
For a week in the Bugs: MSR Hubba Hubba
For a ski traverse across the Waddington Range: MSR Front Range Tarp
For a car camping trip in Skaha: The North Face Homestead Super Dome
---
It is our hope that this article helped you search for the perfect tent. If you still have questions, feel free to drop by in-store or send us an email. We'll be more than happy to help.