Posted on
By Soleil Onoya
Where to get your climbing shoe resoled in Squamish or Vancouver...
2019 APRIL UPDATE: Resole your shoes at West Coast Resoles. Email Soleil if you've heard of another Climbing Shoe Resole location in the area.
---
Before I list the possible places to resole your climbing shoes around town, please make sure you ask yourself these important questions:
Question: Are you crunched for time?
Reason: Repairing your shoes can take over a week, depending on what needs a fixin'. They also have to tally the amount of shoes they need to fix, if they're currently understaffed, etc.
Q: Looking to replace a well-worn, low-priced shoe?

R: The benefits of buying a new pair of shoe may drastically outweigh the cost of repairing your shoe. Take a few minutes off your climbing time to do the math on resoling your shoes versus buying a new pair of shoes.
Q: Can you actually get the shoe resoled?

R: Determine whether your shoes have enough rand left on them. If there is enough rand, this can be saved and resoled. On the other hand, the rand could be blown, so much so that even a tiny bit of your toe can be seen. In this case, your shoe is far too worn out to be saved by a resole.
Did I miss any other questions? Please feel free to leave a comment below and add your own suggestions!
---
Ok, now here are Climbing Shoe Resole options in Squamish and Vancouver…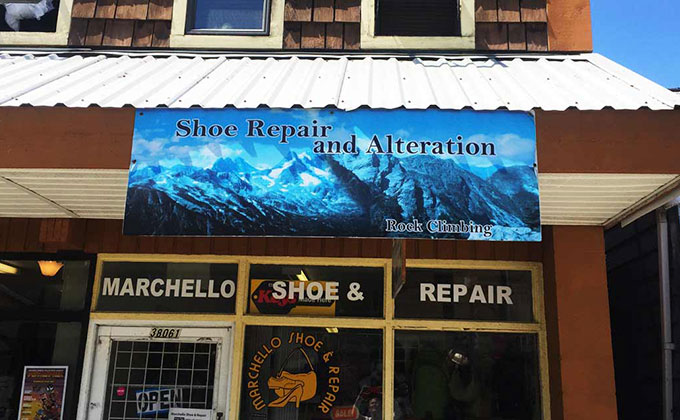 There are two climbing shoe repair places in Squamish:
Marchello Shoe Repair

Location: 38061 Cleveland Ave (Google Map)

Cost is approx. $65 +

Marco's Shoe Repair

Location: 104-40446 Government Rd. (Google Map)

Cost is approx. $65 +
Word on the street is that the best type of shoe these folks can handle are those that have a moderate to neutral low-profile (i.e. La Sportiva Mythos or Katanas). In this case, postpone fixing shoes like the Evolv Oracle or Scarpa Instinct.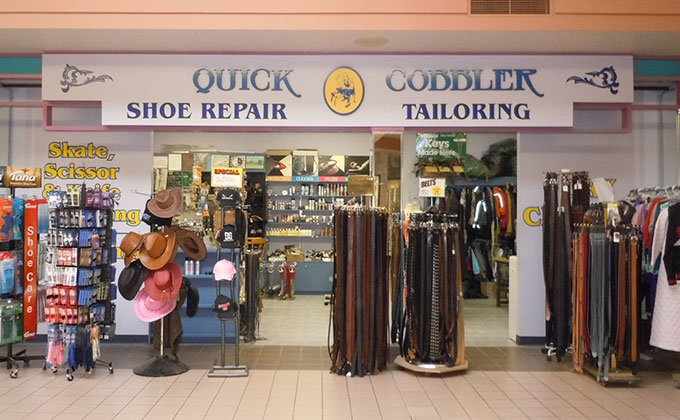 In Vancouver, there are two shoe repair places that do a good job with any type of climbing shoe:
Quick Cobbler

Location: 430 W 2nd Ave (Google Map)

Cost is approx $80 +

Gold Star

Location: 3308 Dunbar St. (Google Map)

Cost is approx $70 +
Remember that if you do not want to trash your trusted climbing shoe, try not to completely destroy them. When you feel the rubber is starting to wear out and it feels too thin, stop wearing them! If you want to get another season out of your beloved/lucky shoe, dedicate some time into bringing them over to a trustworthy resoler.
Now-a-days, what most climbers tend to do is have two sets of climbing shoes that they love to wear. If one of them needs to be resoled, they have the other one to fall back on.
---
Resoling shoes in the States:
Needing a resole in the States? There's this awesome map that someone created at ThingLink that lists all of the Shoe Resole Shops in the States.
I will point out Yosemite Bum, located in California. I've heard nothing but good reviews from our customers about this place and their skill at repairing climbing shoes. https://www.yosemitebum.com/
ThingLink Map: https://www.thinglink.com/scene/849628451345268738
Update (Aug 30 2018): Rubber Room is also good, according to our customers and one of our staff members. https://www.rubberroomresoles.com/
We need a Shoe Resole Map in Canada...eh? If it does exist here, TELL ME A-BOOT it ;)
---
Donating / Consigning / Recycling and Landfill:
There are some climbing gyms that accept used climbing shoes. Your donated shoes should not be completely worn out. Make sure to give these gyms a call first, to see if they're accepting shoes. Don't just bounce over to a gym, dump your stinky shoes to them, and expect them to accept it out of the goodness of your heart.
In a similar note, we accept used climbing shoes to be sold as Consignment items in our shop. It shouldn't be completely worn out. You're selling these shoes to someone else who wants to make use out of them. Ergo, don't dump your shoes on us and expect us to try and sell it if it can't be re-used.
The unfortunate reality is, unless otherwise told, your completely worn-out shoes should go straight into your garbage bin and to the landfill. Please DO NOT place them into recycling bins.
Recycling in Squamish:
Download Squamish Recycling and Waste Chart
---