Posted on
By Climb On Team
What are some of the best gifts to buy climbers? Finding the perfect gift for climbers in the winter season can be difficult. That is, until now!
It's 15 days until Christmas, so we're counting down with a round of 15 awesome gift ideas that will prove to be useful for your climbing friends, colleagues, and loved ones!
Note: For this particular post, we're not including any apparel and shoes. Also, when we release our gift ideas, we make sure all our prices are current. That said, keep your eye out for deals! For the 2018 Holiday Season, we add discounts as time passes by.
---
Locally made in Squamish, the Grandwall Skin Repair Balm is good to have in a climber's gear bag. Finger splits often occur when a climber gets shoddy skin, due in part from switching in between soggy and dry hand tips. Made with all natural ingredients, this balm repairs those loathsome finger splits.
This is another good option for climbers to treat their hands and fingers. The Rhino Skin Repair cream is formulated with essential oils to treat finger and hand flappers, gobis, blown tips, scrapes, cuts, and abrasions. At the same time, it helps disinfect, rebuild, and strengthen a climber's connective tissue, and muscles.
Here's a high value chalk to add to a climber's plethora of chalk. So far, this is the best chalk to have, and perhaps the only one they may want to stick to on days when they're projecting hard climbs.
Because it is made from pure Magnesium Carbonate (not a mixture of Magnesium Carbonate and Calcium Carbonate), Friction Labs chalk stays on their hands longer than any lower value chalk. This could mean less dragging of the skin on a hard hold, which means less hand and finger drag leading to tears and flappers.
Ease all aches and pains with this Sweet Spot Back Massager. It is an effective self-massager that applies pain-relief on a climber's knotted trigger points, and breaks up tension even in the hardest-to-reach muscle areas.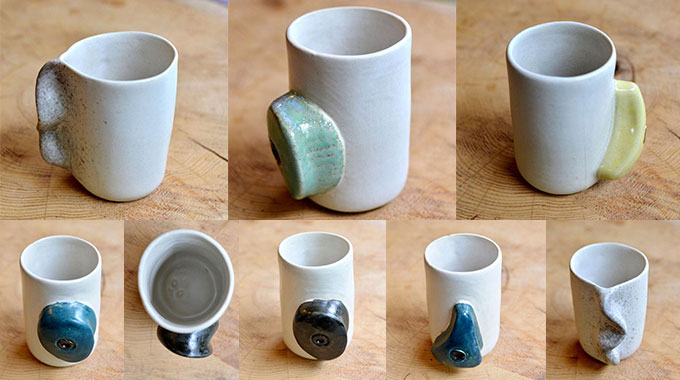 Since a lot of climbers are in training mode during the winter season, surprise them with this ceramic mug handmade in Poland. This is a new item in our store. King Stone is a company based in North Vancouver and these awesome ceramic mugs have climbing hold handles of different grades. The most challenging option is the wave mug with hard pinches. Keep 'em training with every cup of coffee or tea.
The BD ReMoji Lantern is a great gadget for anyone (not just climbers) to have, especially for those who spend a lot of time travelling in cars. Gone are those nights where vandwellers have to cook while wearing a headlamp! This lantern is magnetized, so it easily sticks to a van wall.
Amazing to use for hand jamming, these babies prove to be useful if the person you are gifting loves to crack climb often. Taping up is cheap and convenient, but it takes time. It's nice to have the fast option of putting on crack gloves. Plus, they no longer wince in pain after scraping their skin off a climb.
*Be sure about the fit if you're giving this as a present.
Another great addition to a person's climbing kit are belay glasses. Belaying is a critical part of the climbing system, but it does strain the neck while watching a climber. The Tembo Belay glasses help ease this strain, allowing the belayer to observe the climber while maintaining their head and neck position. These are incredibly light, flexible, and made with good quality optical prisms.
Portable and light, the Yubi Hangboard can be adjusted to increase the angle of grip for a chosen training regime. Just like the Awesome Woodys Training Board (#14 on our list), this is a great travel companion; easy to set up for days where there are no climbing gyms close by.
Black Diamond changed the handles of these new Ultralight Ice Screws. Taking off weight from the handle in combination with an aluminum body and steel tip, these ice screws now weigh incredibly lighter than any ice screw on the market. This is an ideal gift to give any ice climber or anyone who spends a lot of time crossing glaciers.
The Send Strap On Classic is a superior knee pad that is built with sticky neoprene interior, which prevents it from sliding around. It is very easy to put on and take-off and prevents bruising. Not a lot needs to be said about this product. Every boulderer and sport climber that kneebars a lot and wears these love 'em to bits!
*Be sure about the fit if you're giving this as a present.
Behold the NEW Black Diamond C4 Camalots. We just got this 4 days ago! The beloved C4s got a design upgrade this year — weight has been taken out from the lobes, the cam has a new tread pattern, the stems are a bit stiffer, and the slings were upgraded so it's much easier to differentiate between cams when racked on a harness. In addition, the trigger keeper was added to keep the #4, #5, and #6 Cam retracted. This will stun the lucky person getting the shiny, new BD C4.
#13 Totem Cams $129.99
We can't exclude the Totem Cams from this list since they are absolutely amazing. There is much to be said about this cam. But, to save space for this list, we will lead you to a great Op-ed Article written by our friends at Black Sheep Adventure Sports. Believe us when we say that Totem Cams are a great gift for savvy climbers keen on trad routes and aid climbs.
Talk about giving a useful gift — the Awesome Woody Cliff Board Mini is compact and light making it easy to travel with. It can be hung anywhere to give climbers the option of doing a powerful workout at home, in the office, or outdoors. It is also an ideal tool to use as a warm-up and getting those fast twitch fibers primed for starting a climbing project.
Training for climbing can be done at home with the Beastmaker 1000 Hangboard. For new or elite level climbers, the Beastmaker Hangboard has a variety of grips with good progression of holds, and a near-perfect selection of pockets and edges. Great to have to build strength and remain fit for climbing during the winter season.
---
OK, that's all for now. We'll be posting some sweet apparel and discounts in the next few days on facebook. Be sure to follow us!