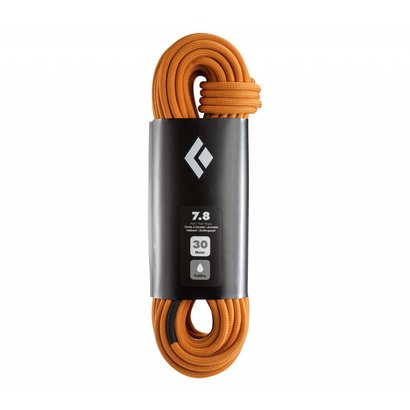 Black Diamond
7.8mm Full Dry Glacier Rope
When you're pushing for the summit, the Black Diamond 7.8 Half Ropes are the tools for the job. Designed to be used in pairs, these ropes come with a burly sheath and full dry treatment, making them perfect for ice, alpine or multi-pitch objectives. ...
More information
Product description
Ideal for when light is right on long alpine routes and tricky weather windows, the Black Diamond 7.8 Half Ropes are built for the mountains. Featuring a burly Endurance sheath that uses a unique 1x1 weave construction to lengthen the ropes' lifespan and make it more abrasion-resistant. The 7.8 also boasts a dry treated core and sheath, which protects it from the inside out against moisture.
These are specifically designed to be used in pairs as half ropes (or in a twin configuration) for an ice, alpine, or multi-pitch setup that can handle anything the mountains have to offer.
Features:
FullDry Performance: With a core and sheath that are dry treated, BD FullDry ropes are protected against weather from the inside out.
Endurance Sheath: With more material and a unique 1x1 weave construction, Endurance sheath is abrasion-resistant and lengthens the lifespan of your rope.
Durability and Handling Balance: Purpose-built to balance both durability and great handling, our ropes are not too stiff and not too soft, giving you a great feeling rope that knots easily, feeds through your belay device with ease, yet holds up to a barrage of use.
Half/Twin ropes must be used in pairs. Do not use this as a single rope.
Specifications
Ideal Use:

Ice, Alpine, or Multi-pitch objectives

Rope Type:

Half ½ or Twin ∞

Diameter:

7.8 mm

Weight (g/m):

41 g/m

Impact Force:

[Half] 5.5 kN, [Twin] 8.5 kN

UIAA Factor Falls:

[Half] 6, [Twin] 14

Dynamic Elongation :

[Half] 35%, [Twin] 33%

Static Elongation:

[Half] 10.2%, [Twin] 6.6%

Sheath Amount:

--

Core Amount:

--

Rope Treatment:

Full Dry (Dry Core and Sheath)

Middle Mark:

Yes

Manufactured In:

Spain