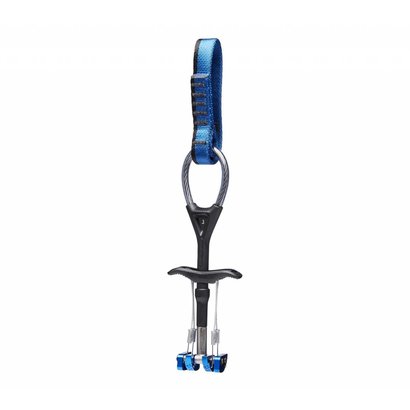 Black Diamond
Camalot™ C4 2019
That's right. They've done it again. Behold the new, redesigned Camalot C4. Now 10% lighter, these feature a more modern design that gives climbers everything they love about the old Camalots. ...
More information
Product description
The world's best-selling, most trusted cam just got better. The new, redesigned Camalot C4 has now upped the ante, considering it's 10% lighter yet just as durable as before. Plus, it features a modern design that improves on the old tried-and-true Camalots. The cam's lobes are lighter and more sculpted, optimized for strength to weight, while the slings have a visual update for easier differentiation when racking. And speaking of racking, we're introducing a new innovative trigger keeper on sizes #4, #5, and #6, that keeps the big guys contracted for compact racking and immediately release when you're ready to place. We've also widened the trigger as well for better handling.
Note: If we are out-of-stock, you can still PRE-ORDER it with us.
Details:
New design is 10% lighter
Lighter sculpted lobes optimized for strength to weight
Trigger keeper on sizes #4, #5 and #6 for compact racking
Slings are updated visually for easier differentiation when racking
Double-axle design offers the widest range for each cam unit
C-Loop continuous cable stem design is strong and durable
Colour-coded for easy identification and a wide range of sizes
Neutrino Rackpack available for easy racking
Specifications:
Weight:

[0.3] 69.8 g (2.46 oz)

[0.4] 77.5 g (2.73 oz)

[0.5] 93 g (3.28 oz)

[0.75] 107.5 g (3.79 oz)

[1] 123.9 g (4.37 oz)

[2] 140.3 g (4.95 oz)

[3] 181.1 g (6.39 oz)

[4] 257.8 g (9.09 oz)

[5] 348.1 g (12.28 oz)


[6] 529.9 g (1 lb 2.7 oz)

Strength:  




[0.3] 8 kN, 1798 lbf 

[0.4] 9 kN, 2023 lbf 

[0.5] 12 kN, 2698 lbf 


[0.75 - 6] 14 kN, 3147 lbf

Range:  




[0.3] 13.8-23.4 mm (0.54-0.92 in) 

[0.4] 15.5-26.7 mm (0.61-1.05 in) 

[0.5] 19.6-33.5 mm (0.77-1.32 in) 

[0.75] 23.9-41.2 mm (0.94-1.62 in) 

[1] 30.2-52.1 mm (1.19-2.05 in)

[2] 37.2-64.9 mm (1.46-2.55 in)

[3] 50.7-87.9 mm (2.00-3.46 in)

[4] 66.0-114.7 mm (2.60-4.51 in)

[5] 85.4-148.5 mm (3.36-5.85 in)


[6] 114.1-195.0 mm (4.50-7.68 in)