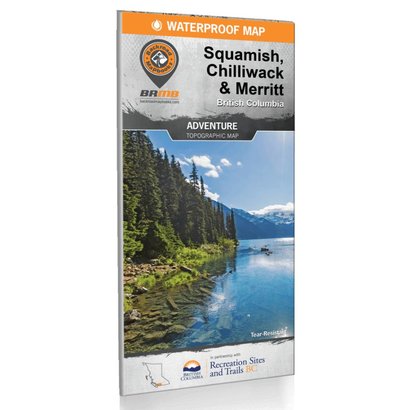 Backroad Mapbooks
Squamish, Chilliwack, & Merritt BC Waterproof Map
Availability:

In stock (2)
Backroad Mapbooks Squamish, Chillliwack and Merritt BC Waterproof Map is your ultimate guide to this incredible region. ...
More information
Product description
This foldable, dual-sided, waterproof, tear-resistant topographic map is designed to withstand any storm or mishap.
Consisting of the southwest corner of British Columbia, the Squamish, Chilliwack and Merritt area boasts some of the greatest outdoor adventure opportunities in the world. From skiing and snowboarding in Whistler to hiking, rock climbing and mountain biking in Squamish, the area in the west of this map is an outdoor recreationist's paradise.
As you move east, the resort town of Harrison Hot Springs beckons with its therapeutic waters and stunning lake views, while Hope offers a gateway into the interior of the province, including the lush mountains of Manning Provincial Park and the untouched wilderness of Cathedral Provincial Park. To the north, Merritt holds on to a rich ranching heritage and provides anglers with some of the best fishing opportunities anywhere in its hundreds of surrounding lakes and rivers. From the wineries of the Similkameen Valley to the ancient rock formations of Garibaldi Provincial Park, this area is as diverse as it is beautiful.
Details:
Released: 2017
Pages: 2
Paper: Waterproof-Tear Resistance
Dimensions: 34" x 46.25"
Map Scale: 2 sides @ 1:150,000
Map Features: Attractions, ATVing, Camping, Fishing, Hiking, Hunting, Paddling, Skiing, Snowmobiling, Hydrology, logging and industry roads
Regional Cities/Parks: Abbotsford, Allison Lake, Boston Bar, Brookmere, Chilliwack, Coalmont, Garibaldi Prov. Park, Harrison Hot Springs, Hedley, Hope, Manning Prov. Park, Merritt, Osprey Lake, Princeton, Squamish, Tulameen, Vancouver, Whistler, and more!